Please welcome Casey's Dad, Jim to the blog for the day! This man can tell a story in person that will make you laugh until you cry. He's going to be a wonderful Grandfather, and we are so excited he was willing to write some words down!
~*~*~*~*~*~*~*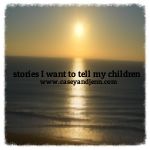 I was born on a farm  in Windham, Maine.  I was the youngest of four sons.  Being brought up on a farm, you gain a good work ethic at a very early age which continues throughout your life.

It wasn't all work on the farm; you seemed to find the time to play baseball, basketball, and of course fishing and hunting.  Again this seems to follow you throughout your life; I played basketball and baseball in junior high and high school and enjoy fishing and hunting to this day.

When I was sixteen, I finally got up the courage to ask a girl out; this was a girl I had known most of my life in school as well as in the great-uncle's hayfield.  She said okay and five years later we were married and have been for forty-one years.   She became a registered nurse and I became a construction worker.

In the late 1970s we decided to add to the family so we had Casey and shortly after we had Katie.  This was just the beginning because they both had friends and we had a pool and a boat.   With the pool, we always had an extended family and with the boat we saw dolphins and whales, caught and released full sized sharks and of course caught plenty of fish to eat.  We tried our hands at lobster trapping and Casey learned to drive the boat to a lobster buoy in the roughest of weather so all I had to do was reach over the side to grab the buoy and start the winch.
Lobstering isn't all it's made out to be; one year on Casey's birthday he took two of his best friends lobstering with us.  That day we caught 28 lobsters but, because of the size or being an egg producing female, all 28 went back in the water.  We stopped at Pizza Hut on the way home to get something to eat; it didn't taste like lobster but, if I remember right, it was very good pizza.
Getting back to my upbringing on the farm, it was inevitable that I needed my own to keep me busy.  My wife and I bought forty acres of land and built a house, garage, and barn.  We had dairy cows, beef, pigs, and chickens; and of course, a large vegetable garden.  As our careers got busy we cut back to the garden and chickens.
As Casey and Katie headed for their teens they helped with getting the hay in and putting up the winter's wood.  They may have complained a little at the time but, can look back as a job well done.
As I found time for enjoyment in my youth, Casey and Katie did as well.  Whether it was around the pool, fishing on the ocean, or ice fishing the lakes and ponds in the winter —we always enjoyed ourselves.  We cross country skied and learned to build a fire in the snow to cook hamburgers and hot dogs; again, no big deal but something they can teach their children.
Its obvious Casey and Katie learned how to enjoy themselves as well as have a very good work ethic.  They both have super spouses and all have quality jobs.

In closing, at nearly 63 years old, what I miss most after the kids grew up is having all the laughter of children around, so hurry up and get me some grandchildren.