Please welcome Casey's Mom to the Blog for the first time!!! When we asked her if she would write about her life to share in our scrapbook, her and Casey's Dad were so excited! Thank you so much Charlene for your words! We are excited for our future child to know you and have you as a Grandmother!
~*~*~*~*~*~*~*~*~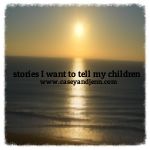 My home was in Windham, Maine, a small rural town about 15 minutes from Westbrook. I was the fourth child born to our family and had three older brothers; they were 16 years old, 14 years old, and 7 years old. Growing up as a toddler and young child were uneventful except for the typical childhood diseases during this era (measles, chicken pox, and whopping cough). Because Windham was a small rural town everybody knew most everybody in town. Which made it nice; parents would look out for other kids and you could walk or ride a bike almost anywhere in town.
My mother was a stay at home mom which was what most mothers did during this time. Their job was to raise the children and take care of the house. My father worked for the State of Maine Highway Department maintaining the State roads year round. My elderly great-uncle also lived with us; our house was his family's original homestead. By the time I was five years old, my two oldest brothers were married and in homes of their own.
Because we lived a modest lifestyle, as did most people, we didn't have a lot of extras or go on trips. We had to be very careful of how the money was spent. Many things were recycled or turned into other useful things. Very rarely did people buy new things. My mother was an excellent cook and everything was homemade. We had chickens, a steer, dairy cows, and a pig that we raised for food. Most years there was venison on the table too thanks to my father's hunting skills. Fresh eggs, milk, and homemade butter were always available. The meat was frozen for the winter supply. We also had a vegetable garden and my mother would preserve the vegetables either by canning them or freezing them. My mother and I and some of her friends with children would pack a picnic lunch and head for the woods to find the blueberry patches. We would spend all day everyday there picking berries until they were gone by so we would have pies and jam for the winter.
All of my clothing was made by my mother, a talented seamstress. We would go shopping every summer and see what the new fashions were and she would make copies of the clothes for me. She also made her own clothes, our curtains, tablecloths, and blankets. In the summer and fall she would knit or crochet my hats and mittens and socks for my father. Anything that could be made homemade was made at a fraction of the store costs. Because of this upbringing, I learned the value of a dollar and how to be thrifty. I also, through my mother's talents and patient teaching, was able to learn a lot of her skills which I used in later life.
I started taking piano lessons when I was nine years old and continued these lessons for several years. I was also a member of the local Brownie and Girl Scout troops. When I was eleven years old we welcomed my new baby sister into the family. Shortly after, my other brother got married, so now there were just us two kids and three adults living in the house. In Junior High School I was a majorette in the small town band and I joined the Rainbow Girls Organization. During my high school years I was active in several clubs. I had always said I wanted to be a nurse ever since I was a young child, so my focus was on studying hard to get into a nurse's training school. I also met the love of my life in high school. After graduation, I started a three year nursing program at a school about thirty minutes away. We were required to stay at the dorms but I got to go home every weekend.
About 6 weeks after I graduated from nursing school I became a wife on July 31, 1971. Again my wedding dress and veil was made by my mother as well as her own dress and most of the bridesmaid's dresses.
After several years of renting, Jim and I bought a piece of land and started to build a house. We couldn't afford to build it all even though we were building it ourselves so we chose a split-foyer design and built only the basement and lived in that, finishing rooms as we could afford it. It was a very busy life, working on the house in our spare time while I was working in a hospital and Jim was doing carpenter work and other odd jobs to save as much money as we could. We also had a milking cow and several beef animals and a pig to care for. Because of these animals it also meant we had to cut and bale hay for feed. When our son, Casey, was born I stopped working full time to stay at home and raise him. After our daughter arrived, we were getting quite crowded but still couldn't afford to finish the house so we extended the basement out sixteen more feet. I continued to work a few hours a month as a nurse consultant at various assisted living facilities and Jim had obtained a job as a construction consultant on various commercial projects. Eventually, we formed our own construction consultant company in 1980 but his job would lead him to travel out of state and work long hours so it was up to me to keep everything running smoothly at home. I became quite self sufficient in many areas women usually don't deal with such as removing snow and fixing broken equipment.
After nine years of living in cramped quarters, we finally saved enough to start building the rest of the house in 1983. We built it ourselves with the help of our fathers, siblings, friends, and other relatives. We are still there today. We have 40 acres of fields and woods and grow our own vegetables to preserve; giving any extras to the elderly in town. We also harvest our own firewood when time permits.
My married life has been so full of so many things that it is hard to remember all of them. I have been snowmobiling, motorcycling, camping, milked cows, hauled lobster traps, and fished for sharks, tuna, and ground fish in the ocean. I also grow about eight hundred flowers from seed in our greenhouse and plant them in my flower gardens and in pots around our swimming pool. I took up watercolor painting after the children got older.
As you can see, I have had a very full life with many wonderful experiences and memories and forty-one years of an exceptional marriage.