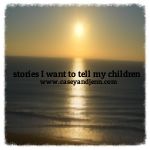 I grew up with a lot of loss in my life. By the time I was 13 I had lost my Grandparents on my Mom's side, and two of my uncles. I had been to funerals, wakes, and had laminated obituaries hanging on my wall that represented half of my extended family.
At the age of 15, my Mom walked through the kitchen door and my world was rocked again.
There are moments in your life that you can remember like yesterday. That day is one of them. I was on the phone with Stacey when she came through the door, and everything about her body language told me something was wrong. I hung up with Stacey, and we had a family meeting in the living room. I sat on the arm of our living room chair when my Mom told us the news.
Cancer.
15 years ago, our family faced my Mother's mortality for the first time. I looked into her eyes, that are also my eyes, and after holding her gaze, I turned away. More like I ran away.
I called Stacey back from my front porch stairs, crying.
For the next year, I learned a lot of lessons. I learned the ins and outs of all the waiting rooms. I learned that my father deals with stress by incessantly claiming everything will be okay. I learned that my mother prefers to cry in the shower, when she believes no one will hear her. I learned that my brother could or would not be my support in this crisis— I'm still not sure which.
I learned that a crisis such as this, is the quickest way to learn who your friends are.
"She says she doesn't like hanging out with you because you're not as happy anymore."
"You're so lucky you get to leave class early to go to the hospital with your Mom. This test is so hard!"
"What's the big deal? She doesn't seem that sick."
Straight to my heart. That's where all of these statements went. Never to be forgotten. And if I'm being brutally honest with myself – never to be forgiven.
And then there was Stacey. And Carly. And Antoinette. And, oh, Stacey.
In a crisis such as this – friendship, best friendship, is solidified. Someone who cannot know how you feel exactly– but hugs you while you cry anyway. Someone who will pick up the phone after you just saw your Mom without hair for the first time, and just listen.
I'm not saying that we wouldn't have been best friends if not for this time in my life. I'm saying that life events like this makes and breaks a lot of relationships. And not only did it bond my Mother and I together even closer, but it also tested Stacey and I. I realized what matters, who matters, and that is the people who are there. Rain or shine. Laugh until you cry, or cry until you laugh. Finish your sentences. Treat your family like their family. Get you.
I learned a lot of lessons in that year. And one of the biggest, is when the doctor said "cancer-free" – it wasn't just that statement that let the sunshine back in, it was the people who stayed through the rain that made it so much brighter.
My wish for you, is to have friends. Actually, to have a best friend, who gets every little part of you. And loves you in spite of it all, and because of it all.